The arrival in England is splendid, and we are met by our guide Kate, a humorous British 30-something (it's impolite for me to reveal a young lady's age) who will also be directing us through Paris. I am delighted to find that our luggage carts have hand-brakes, which means I can ride mine down hills, much to the danger of everyone around me. Natalie has a fantastic action photo of this. The airport is actually some ways outside of London, so we have a splendid bus ride through English countryside.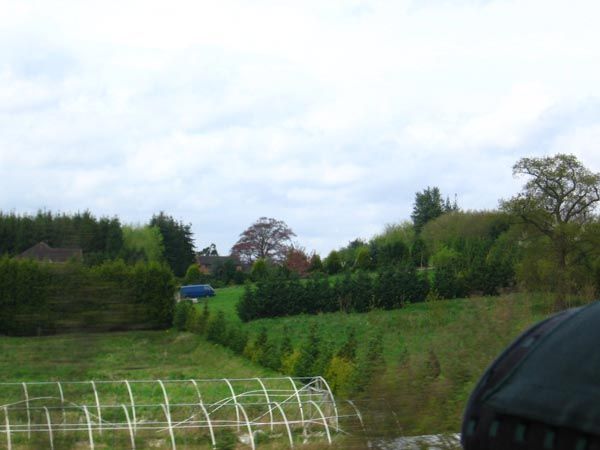 Buildings and billboards are the first signs of civilization, and specifically the billboards are a sign that we are no longer in American civilization.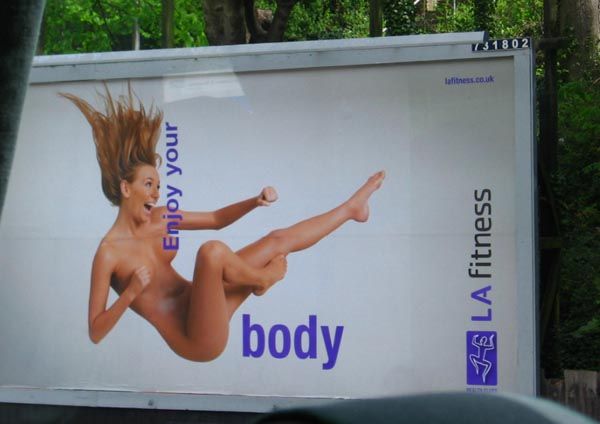 After getting into the hotel and setting up our baggage and such, Kate offers to take the group down to Leicester (pronounced "Lester") Square for some lunch and then on to something else.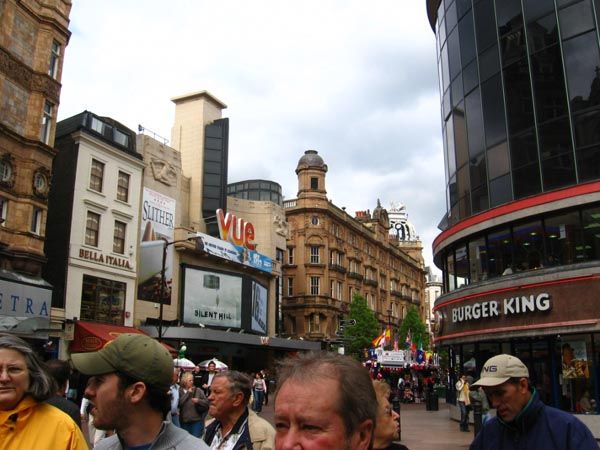 Kent, Angus and David milling around there. We young ones, Annica, Jenny, Natalie and myself, go off for some food, and Natalie and I discover a nice, traditional pub by the name of the Imperial on a side-street while Jenny and Annica pick up some Starbucks. 9 hour flight to England. First stop: Starbucks. We have some delightful sandwiches at the Imperial (not true, I have a jacket potato), and I have my first beer, a genuine Czech Budweiser. I found it a bit strange that the bartender suggested this, but it was good, at any rate. We meet back at the center of Leicester Square, and some of our group is late, because they had to have their check split at Planet Hollywood (again, 9 hour flight, first stop: Planet Hollywood), and Kate admonishes them with chocolate penalties. We take a short Tube trip to a boat tour down the Thames. Lots of fantastic pictures to share from that. First, the London Eye, a 450-foot tall ferris wheel with enormous glass pods. Sponsored by British Airways, a "flight" takes a full half-hour.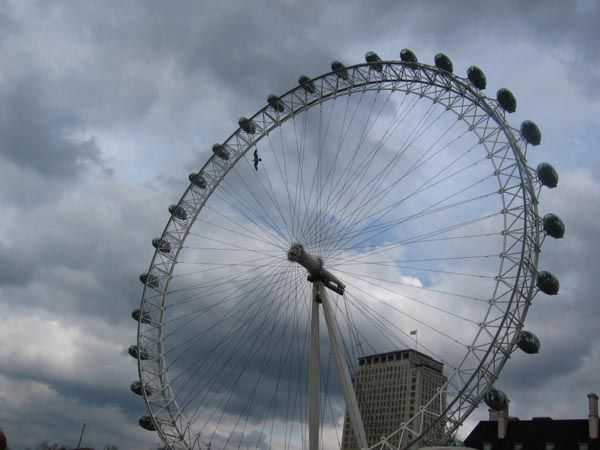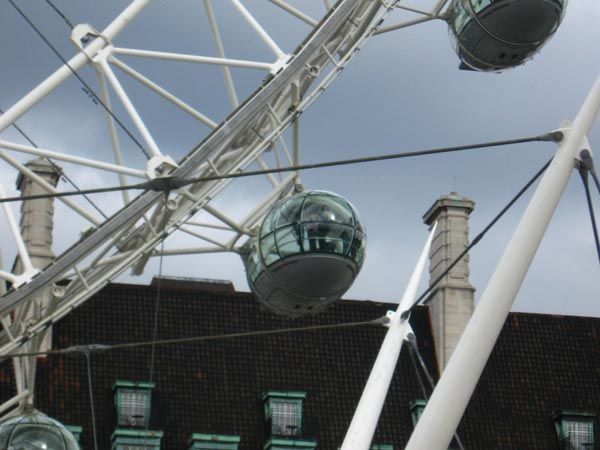 I take a lot of pictures on the river tour, most of which I can't recall the meaning of the building. Again, we see Kent's head. A recurring theme, seeing as how he's too short to make it fully into my pictures.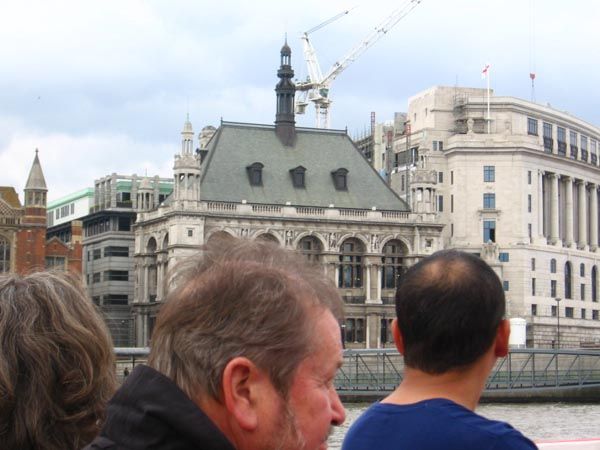 My lovely Natalie, and is that the Old Bailey in the background? I have no idea! but, look at her cute hat.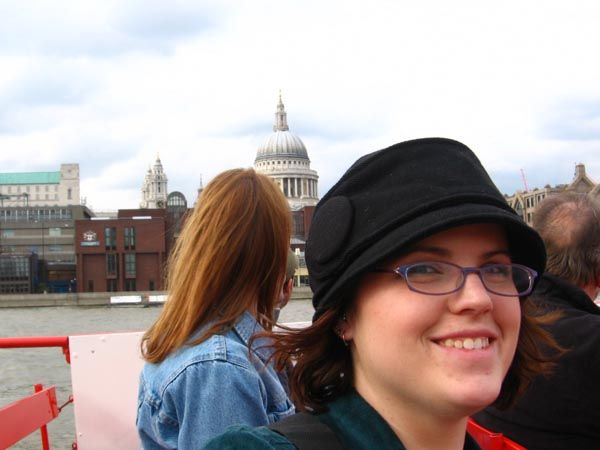 A rather fascinating building, but I wanted to show a little portion of it, notice the name of this eating establishment, I saw a few of them in London: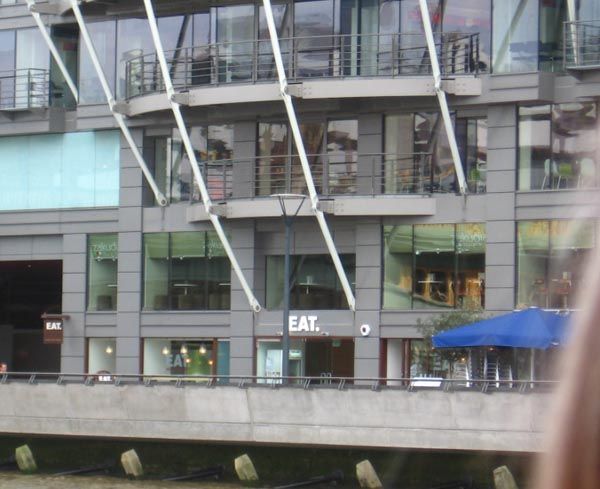 The first recognizable picture, here we find a full working replica of Sir Francis Drake's Golden Hind, which he circumnavigated the globe with. Actually, this replica has completed his journey three times over, seeing more sea miles than his original ship.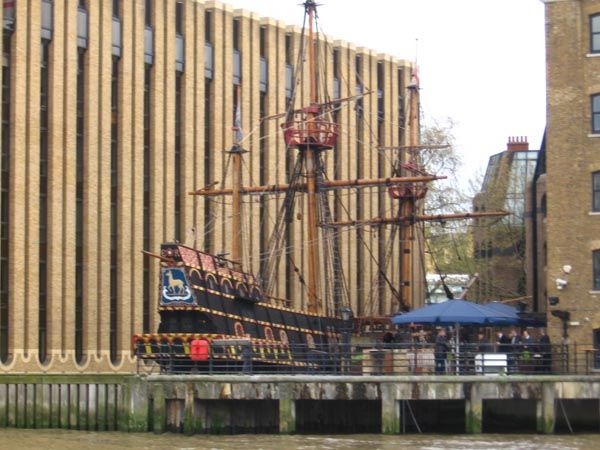 We finish up the river tour at the London Tower, where John Morgan purchases a sizable chocolate coin for Kate in apology for his being late. She is ecstatic, it's like having money and chocolate simultaneously. Here, we see a small remaining portion of the Roman Wall, a portion of the Tower dating back to the Roman conquering of England.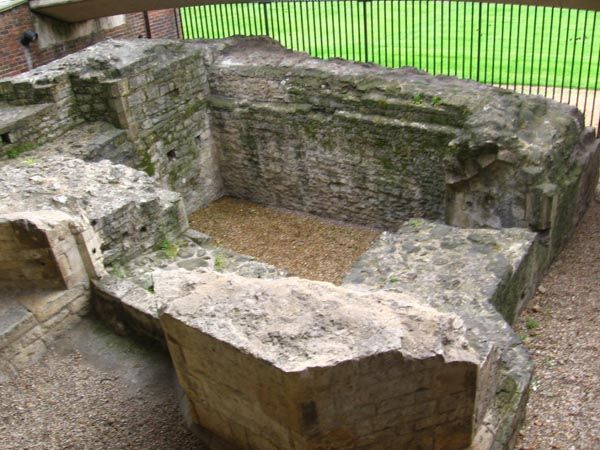 The young ones again venture out away from the adults for the evening in hopes of getting some top-shelf Chinese food in China Town, of all places. After stopping in a couple of junk shops, I spot a restaurant across the street I did not believe existed. "Holy shit."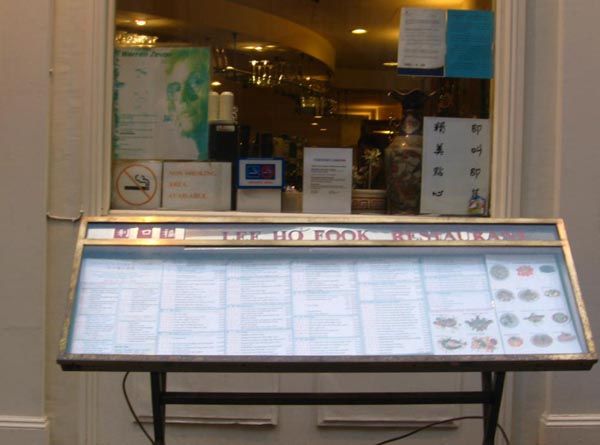 I saw a werewolf with a Chinese menu in his hand




walkin through the streets of Soho in the rain.




He was lookin for the place called Lee Ho Fooks, gonna get a big dish of beef chow mein.


There is a great deal of struggling with Annica's camera to get the flash working now that the sun has gone down, and then I get a picture of Natalie, just as Annica puts forth her best accidental effort to ruin the picture. Natalie asks if the bottle was right in front of her face, and I say it's not right there, but in the general vicinity.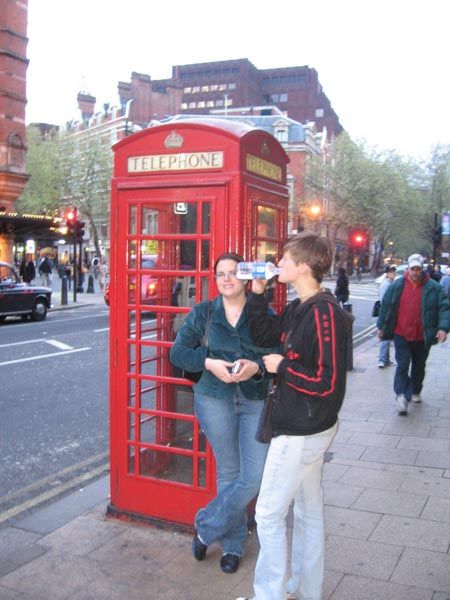 A bus tour in the morning, with a very humorous guide whose name no one can recall, and our bus driver Pete, who is bald and heavily tattooed. Here, we see a picture of a small sandwich shop, which I took a picture of because I liked to imagine that the chap smoking there really is Neal, standing on his corner.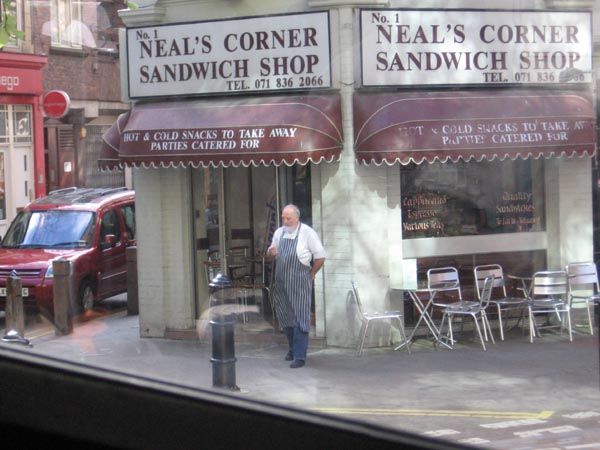 The big attraction on the bus tour is a short stop at St. Paul's Cathedral, where we pick up caffeinated drinks and some postcards. Here we see Carmen talking to Kate about the Greek fish and chips restaurant they ate at the night before while Kent, David and Jackie loiter in the background like the hooligans they are.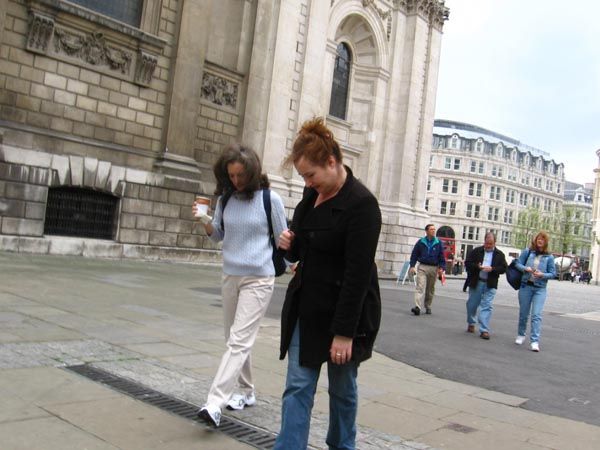 I'm closing here, at # 132 of my 876 pictures, I'll continue later.